Making a mid-life crisis work.
What is a Mid-Life Crisis?
We all seemingly know what a mid-life crisis is. We've all possibly met people who are having or who've had a mid-life crisis. It's something that we can mostly joke about. It's a phrase which Elliot Jaques coined in the 1960s to describe that phase of life when we question our existence and our mortality.
For me, it's that time of life when you start to question the choices that you've made. So, you've embarked on a career. You've been in a relationship for a while. You possibly have children. Initially, you believed that this was the way forward. Subsequently, you started to question whether this was the right path. Ultimately, you 're now wondering if this is really what you want. And you're now beginning to question everything. Consequently, you're feeling confused, bemused, frustrated, trapped, or depressed. Or a combination of some of them. Possibly all of them. 
Have an affair. Buy a motorbike. Take up extreme sports. Get divorced. Quit your job. Turn to drugs and alcohol. Get plastic surgery. Start gambling. Have a hair transplant. You get the idea. Become a stereotype. Be the meme.
And maybe the picture is reflecting you, as you are now. You've started climbing, it all felt so secure. Suddenly you feel like you're hanging in there, holding on by your fingernails.
Alternatively, Turn the Crisis into an Opportunity.
Difficult though it may sound, it's more than possible to turn those negative thoughts into something positive. And the first step is to accept that it's OK to have the thoughts that you're having. Once you do this, you can start to look at the reality of now. Firstly, consider what is, in fact, working for you. Secondly, think about what you want to work better. Then establish what you want to do to maintain the good parts. After this, you can explore what changes you want to make. It's possible there are changes you make right now. Equally, it's possible that some changes may take time. If this is the case, work out what the first step is. It could be a call to action. However, it could also be acceptance that now is not the right time. In which case, when is the right time?
Coaching as a Way Forward.
The non-directive approach of coaching may be exactly what you want right now. First and foremost, the coaching relationship focuses on the reality of your now and the future that you want for yourself. Importantly, there is no pressure to make changes right away. You can make the plans you want. You have the choice to set goals that will lead you to the life that you want. Crucially, you get to decide when it's time to take action.
How Does Choosing Not to Act Now Help?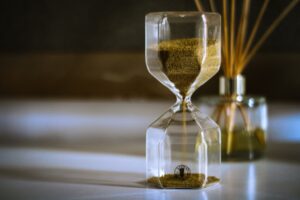 It's curious. I've worked with many people who are simply fed up with life as it is now. They've expressed real despair that life has turned out differently from what they wanted. Feelings of frustration, of being stuck, are common. Yet, as we explore the reality of now, they're able to identify that some aspects of their lives are going well. They can then see more clearly what they want to change. Creating that long-term plan can be hugely cathartic. And as a consequence of doing this, it's possible to take some small steps now to set yourself up for your longer-term goals.
If you're still now sure, book at initial consultation here to find out more. It costs nothing and could be the first step that you want.